On June 22, 2016 the soil team went into the field to conduct data collection and sampling of soil for a study created by Flora, our team leader and manager.  The team consisted of Gretchen, David, Flora, Shelan, Rick, Rosli, Ali and myself. We sampled on three sites: a reference site, a successful restored site and an unsuccessful site.  The question posed was: what is causing differing success of tree growth in seasonally flooded swamp forest in Block A of the Pin Supu Forest Reserve? The null hypothesis was: The quality of the soil in the less successful areas of restoration is equally conducive to the growth of tree species chosen for restoration (namely Bangkol, Sapat, and Salung Apid) as the successful areas.  Equipment used: Munsell soil color chart, GPS, weather meter, soil pH meter, 100 mL graduated cylinder, soil moisture meter, DI water, a tape measure and rags/wipes to clean instruments.  It was decided that we look closely at the tree species Sapat, Bongkol and Salung Apid because they are the three dominant species that KOPEL has decided to plant for restoration.  We hiked into the Block A restoration area with Rosli leading us to find the various sites.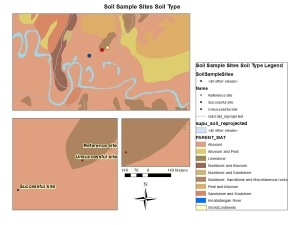 We collected data by sampling soil in each area within a 10×10 m square plot.  Each site, except the unsuccessful site, contained at least three of each tree species.  Using the weather meter, we collected weather data (temperature, altitude, humidity). In the center of the plot we dug a hole about 12-18 inches deep to look at soil color/texture and observe the profile.  We found that pretty much all soil was characterized as clay or silty clay.  At the successful and reference sites we sampled soil pH and moisture levels at the north and south ends of three of each of the tree species, approximately .5 m away from the base. We found that average pH was about 4.9 at the reference site, 4.3 at the unsuccessful site and 4.7 at the successful site.  Average moisture was 47% by volume at the reference site, 35% by volume at the unsuccessful site and 30% by volume at the successful site.  We also measured soil temperature which was 27.6 degrees C at the reference site, 30.0 degrees C at the unsuccessful site and 27.5 at the successful site. We also looked at canopy cover with the reference and successful site having about 70-80% cover and the unsuccessful having less than 5%. While the results are inconsistent and more data is needed, this provides a good start and study that can be looked at more in depth by Rosli and the KOPEL team.  Soil is a variable that has not been explored much and it may prove to be critical when it comes to restoration at certain sites and the kind of tree species planted at the site.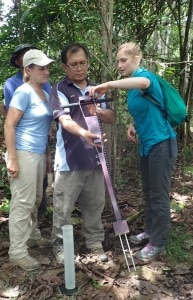 The experience of working in the field was very interesting.  It was a long field day of about 8 hours of walking, finding sites and sampling/collecting data.  It was great to work as a team and help Flora with a project that she was very passionate about.  Working in the field does not always go according to plan and can be very difficult.  Working in a tropical environment can be challenging because it is constantly wet and hot.  However, each person in our group worked well together and did their part.  Ali and Rosli got some great experience using the different instruments and learning about how to sample soil.  We learned that with the right team and each member playing a key role, a lot can be accomplished.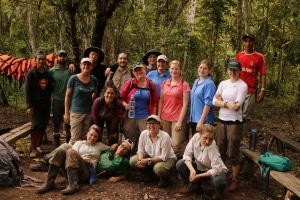 -Brendan Lum