Sabaidee from Central Laos! We have had many adventures on our way to the field – from loosing one of our bags with battery charging equipment to the dozens of government offices we had to visit in the last 4 days to get official government permission for our field work. (We just got word that our bag was sent to Adelaide, Australia and is now finally back enroute to Singapore where we will pick it up on our way home.) Leaving on New Years Eve, our San Francisco team flew for 36 hours through 5 airports to get to the capitol of Laos, Vientiane. What a way to spend the New Year – above the Pacific Ocean! After a few days of provisioning, we flew up to Luang Prabang to visit the director of Pha Tad Ke Botanical Gardens – our new partner on this project partner. Then back to meet the rest of our National Geographic team coming from Scotland and Chicago. We then headed on a the main 2 lane highway in Laos south to the basecamp guest house near the Watershed Management Protection Agency office – another 8 hour journey on very rough roads.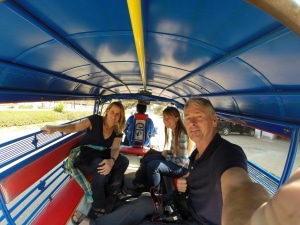 Research team, Gretchen Coffman, Robin Hunter, and David McGuire, traveling by TukTuk to Botanical Gardens.
Okay, they tell me the boats are ready to travel to our field site in the Nakai-Nam Theun National Protected Area and our field team of 14 and growing is ready to head up the river. Most likely will not be cell or internet service at our forest sites in the Annamite Mountains. Look forward to sharing our adventures in the field when we get back in two weeks…
Sok De!
The Endangered Cypress Team