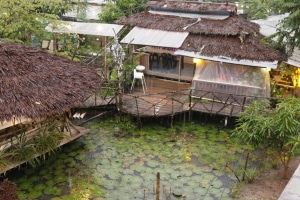 I have landed back in Borneo for my fifth trip since Shark Stewards began working here in 2013. This trip is part University of San Francisco field course, part shark conservation and part conservation film making and diving. Five days in the jungle and so far so good. As part of the University of San Francisco Tropical Restoration Ecology Masters of Environmental Science Management course we are leading 14 students into the jungle to learn about impacts on the rainforest and restoration efforts for the forest and threatened wildlife.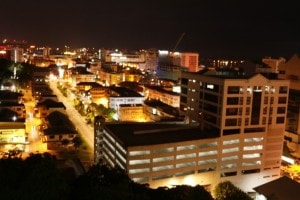 First the urban jungle. Kota Kinabalu of Malaysian Borneo is an interesting mélange of the old Kampong style villages and the rapid high rise growth of many Asian cities. We are staying at Borneo Backpackers in the old Gaya district near Port Jesselton at the edge of one of the few remaining undeveloped urban hill spaces. The lodge is simple, clean and well run and has the advantage of being over a small café with live music, and in the old district with great food. The neighborhood is a mixture of old concrete two story apartment over businesses filled with the odors and colors of East India, Malaysia and remnants of British colonial architecture that survived the bombing during World War II.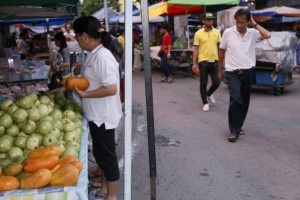 One of the exciting experiences in Malaysia is food. As the class gathers, we sample the diversity of tropical fruit from the open air market like perfumed mangosteen, hairy red rambutan and even the aromatic durian. We eat bowls of chinese noodles (Mee) from the corner shops and curries and coffee from the Muslim restaurants for 10 Ringgit ($2.50 US). The last night before heading to the Tungog Rainforest Eco Camp on the Kinabatangan River for field study, we gather at the Signal Hill Eco farm for a dinner of organic kale, mushrooms, eggplant and fried Lotus flower for the vegetarians, and chicken and duck raised on the farm for the meat eaters.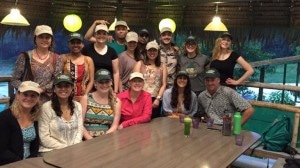 Between periods of dense rainfall, the effusive owner and Director Lee Thien Fook, toured us along wood planked paths raised over fish ponds and red saturated soil, among hydroponic beds of greens and through his greenhouses. Lee has pioneered a unique agricultural system using the animal wastes as fertilizer, treating plants with water treated with higher oxygen content and feeding the poultry an extract of ginseng leaves and tongkat ali- an herb with certain "uplifting" qualities. Now in its fifth year, the farm was originally developed to provide aging cancer patients with wholesome organic foods. Difficult to locate, the Eco Farm has a prominent Facebook presence (with explicit directions on every post) and 69 year old Lee learned how to Instagram from 20-something Shelan.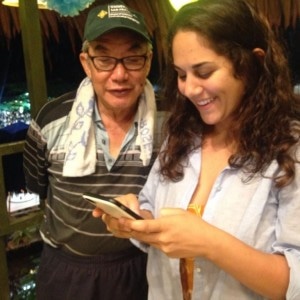 The food, served on an upper deck surrounded by greenery and serenaded by the honks of geese and clucks of chickens below, was absolutely delicious.
Next stop: Kinabatangan river boat and Tungog Rainforest Camp.
David McGuire
Sharkstewards