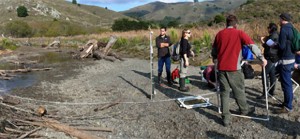 During this field trip, we learned about riparian ecosystems found along streams of coastal California by visiting Redwood Creek and sampling riparian vegetation along a restored reach of this stream.  Other field trip objectives were to practice using field equipment for vegetation sampling and to assist the GGNRA in monitoring restoration of a riparian ecosystem along Redwood Creek.
Most of the Redwood Creek Watershed is largely protected and undeveloped, owned and managed by GGNRA, Mt Tamalpais State Park and Marin Municipal Water District.  Riparian ecosystems extend from headwaters of Redwood Creek to its mouth and is one of only seven Marin County streams supporting coho salmon, the southern-most viable coho population in U.S.  However, this watershed was once covered by dairy farms, grazed, and the site of a hotel and summer cabins.
In the early 1960s, Redwood Creek was extensively modified and levees were constructed downstream of Pacific Way.  GGNRA now manages Muir Beach and recognized the unique value, historical importance and potential for restoration. In its degraded state, the Redwood Creek at Muir Beach is a weak link in the Redwood Creek ecosystem.  Thus since 2009, GGNRA has been implementing restoration actions at this site which we will tour and sample within on today's field trip.